Keeper Talks at the Columbus Zoo
Columbus Zoo Keeper Talks
The Columbus Zoo offers "Keeper Talks", every day for 30 minutes throughout the day from March 16th through October 27th. Located throughout the zoo in the Heart of Africa, the Shores & Aquarium, the Congo Expedition, and more, each Keeper Talk focuses on a particular animal such as the lions, gorillas, penguins, and even the Discovery Reef Diver.
Sponsored by GermainCars.com, Keeper Talks allow Columbus Zoo visitors to hear straight from the zookeepers' mouths about how they care for the animals, how they train the animals, and how you can help protect their cousins in the wild.
GermainCars.com serves as the presenting sponsor of the Zoo's Heart of Africa Region. Guests can learn all about the region's native animals, their favorite treats, and also how they can protect these animals.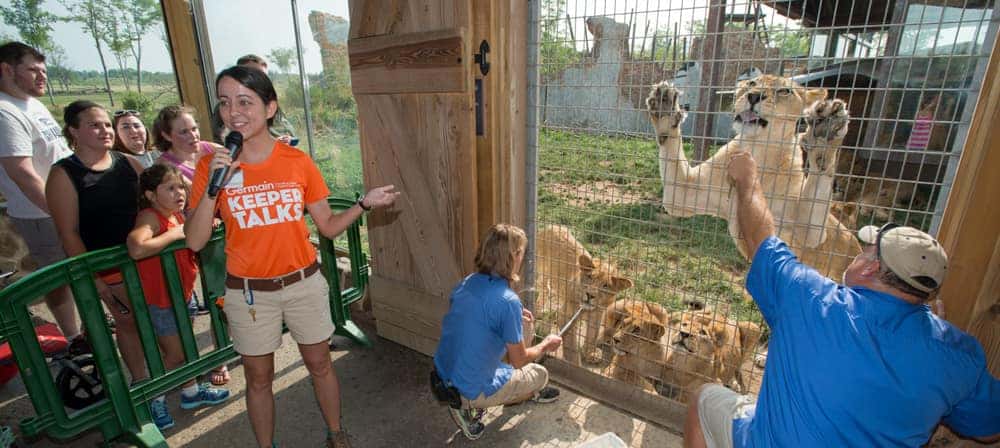 So next time you're at the Columbus Zoo, we hope you schedule time to hear from the people who know your favorite animals best — the Columbus Zoo Zookeepers! See the schedule below for times and locations for daily Keeper Talks.
Columbus Zoo Keeper Talks Schedule
2019 Schedule:
Mar. 16 – Apr. 30 (Weekends Only)
May 1 – Sept. 2 (Daily)
Sept. 3 – Oct. 27 (Weekends Only) *additional times for Boo at the Zoo
Time
Show
Region
9:30

am

Elephants
Asia Quest
10:00

am

Lions
Heart of Africa
10:30

am

Polar Frontier Bears
Polar Frontier
11:00

am

Tigers
Asia Quest
11:30

am

Rhinos
Asia Quest
1:00 

pm

Discovery Reef Diver
Shores and Aquarium
1:30

pm

Gorillas
Congo Expedition
2:00

pm

Bonobos
Congo Expedition
2:30

pm

Penguins
Shores and Aquarium
3:00

pm

Asian Small-Clawed Otters
Australia and the Islands