Sprinter Van Model Overview
The Mercedes-Benz Sprinter Van
The commercial van that launched many imitators will help you sprint ahead of your competition. The most advanced commercial van on the road today just took another giant leap forward. In addition to a fuel-saving 2-stage turbo diesel engine, Best-In-Class payload, cargo volume, and interior standing height, the Sprinter also incorporates advanced safety innovations and legendary Mercedes-Benz reliability.
An available Super High Roof creates a towering interior standing height of seven feet and a class-leading maximum cargo capacity of 586 cubic feet – but that extra height won't translate into an unstable work vehicle as Sprinter vans also feature Crosswind Assist, the only crosswind-mitigation system in the commercial van segment. This highly advanced standard feature gently engages individual brakes at highway speeds to quickly stabilize your Sprinter Van and help assure safety and control in strong, gusting crosswinds.
Sprinter advantages don't end with cutting edge features either. Extended service intervals of up to 20,000 miles help you reduce maintenance costs and vehicle downtime, while BlueTEC® clean-diesel technology helps make Sprinter vans one of the greenest vans in all the land. Experience the Mercedes-Benz Sprinter Van, the commercial vehicle that helps accelerate your business, raise productivity, and lower the total cost of ownership.
Sprinter Worker Van
Featuring a 6-Cylinder BlueTEC Diesel engine, Load-Adaptive Electronic Stability Program (ESP®), and Crosswind Assist, the Sprinter Worker Van has a payload capacity of up to 3,512 pounds (depending on configuration) and can be configured with 4-wheel drive allowing you to get on and off any construction site with ease.
Starting at $33,995
Sprinter Cargo Van
Don't just keep up with your competition—pass them like a Sprinter. Built smarter from the ground up, the Sprinter Cargo Van created the blueprint for the hard-working commercial van. With a payload capacity of up to 5,507 pounds, and a maximum cargo volume of 586 cu. ft. the Sprinter Cargo Van is ready for heavy duty service.
Starting at $37,995
Sprinter Crew Van
The Sprinter Crew Van has room for nearly everything—and everyone. Transport cargo and up to five people with a removable three-seat crew bench that provides the flexibility to bring your workforce along to any job.
Starting at $41,495
Sprinter Passenger Van
The Mercedes-Benz Sprinter Passenger Van offers transportation with unrivaled style, safety, and innovation. First-class features include room for 12 people, an interior standing height over 6 ft. 3 in.(High Roof), a spacious rear storage area, and ergonomic durable rear passenger seating with individual headrests and integrated 3-point seat belts at each seating position.
Starting at $44,150
Sprinter Cab Chassis
Whether you're building a state-of-the-art ambulance, RV, luxury limousine, or box delivery vehicle, the Mercedes-Benz Sprinter Cab Chassis/Cutaway is the perfect way to begin. With a Best-In-Class payload, its refined yet rugged platform is built for big thinkers—like you.
Starting at $37,495
Your Sprinter Sales Person: Eric
After selling used cars for 3.5 years in West Virginia, Eric moved to Columbus and began selling Sprinter vans as a Commercial Vehicles Sales Consultant at Sprinter of Easton. While new to commercial van sales, Eric excels at utilizing the knowledge and expertise of our local up-fitters, Sprinter service personnel and the entire Mercedes-Benz USA team to assist commercial clients find the best solutions for their work van needs.
Eric says " I listen intently to what each customer is saying, and recommend which product(s) are best suited for their needs. I try to deliver options they may not have thought of, but which I know could be beneficial for their situation. We work with contractors, delivery services, and a wide array of different business – each with unique needs. So my goal is to listen intently, insure I understand their work van needs, and bring solutions that will help their business.
Germain Mercedes of Easton
Eric Templeton
614-949-1675
etempleton@germainmotorco.com
Available Rooflines and Wheelbases:
Upfit Solutions:
Ladder Racks
From simple and inexpensive light-duty cargo carrying racks for the top of your Sprinter Van to Ranger Design™ ladder racks with the lowest reach in the industry, we can help make sure your new Sprinter Van has the right ladder racks for your work and your budget.
Interior Shelving
We have shelving kits specifically designed for the Electrician, Plumber, or HVAC Professional in-mind.  We custom-design shelving packages specifically for your needs including all shelves, drawers, dividers, and end panel accessories from great brands Sortimo by Knapheide and Ranger Design™.
Floor Tie-Downs
The last thing any contractor wants are equipment and supplies bouncing around the cargo area – potentially damaging  your shelving and tools.  That's why we can provide your new Sprinter Van with Flooring and Tie-Down Systems to provide added safety and a quieter ride.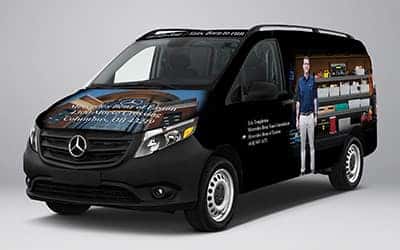 Wraps
What work van would be complete without custom-graphics that turn your work van into a mobile billboard for your business!  We've completed dozens of custom vinyl wraps for our Sprinter clients insuring their business stands out above the rest on any job site.