Audi College Grad Program
Reward Yourself with a New Audi
Graduating from college is a huge achievement and you deserve an exceptional vehicle to start your next journey. The College Graduate Program Audi offers is specifically designed to help qualified customers lease or finance a new or Certified Pre-owned Audi. This program may provide incentives like rebates, low down payments and relaxed credit requirements.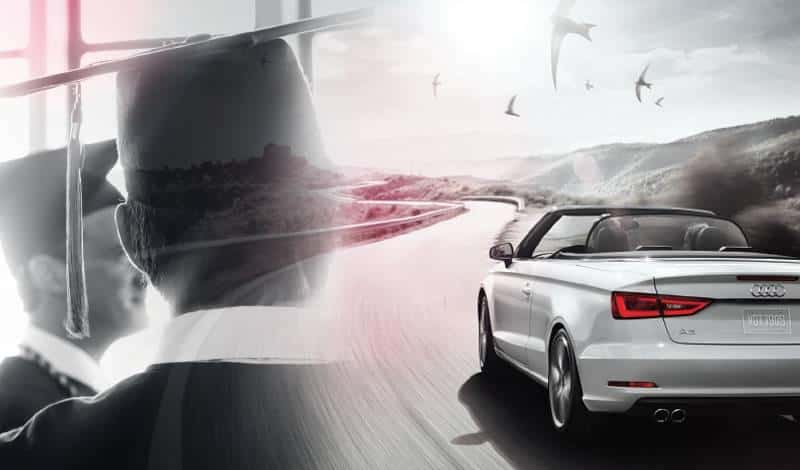 College Grad Program Benefits
No co-signer required
Competitive rates even if you have no credit
No credit history required (if you have existing credit, it must be in good standing)
No security deposit on a new lease
Follow These 5 Steps for a New Audi
| | |
| --- | --- |
| 1. | Pick out a new Audi online or at the dealership |
| 2. | Bring in a copy of your diploma or a letter from your registrar's office showing you've graduated within the last two years or will be graduating within the next six months |
| 3. | Bring in your proof of employment (or employment offer) |
| 4. | Submit a finance application |
| 5. | Drive off in your new Audi |
Must Meet These Requirements For Eligibility
You are a U.S. Citizen or permanent resident of the United States
You graduated in the past 24 months, or will graduate in the next six months
You have a full-time job, or you have a written commitment from a future employer
What to Bring to the Dealership
Contact information from two personal references who reside in the United States
Proof of insurance and agent contact information
A copy of your degree or transcript and contact information of your college or university
A copy of proof of income and full-time employment as well as contact information from a human resources or payroll representative
Your valid driver's license
Should You Buy or Lease?
Choosing whether you should buy or lease is not the easiest decision to make. There are many things to consider, and what works for one individual may not work for another. Here's a list of benefits for both buying and leasing a vehicle.
Benefits of Buying
After you pay off your vehicle, you will own it and have equity that can be leveraged if you purchase another vehicle
When financing a vehicle, your interest rates can be as low as 0% APR with qualifying credit
You can drive as many miles as you like without having to worry about mile overage fees
Benefits of Leasing
Since you won't be locked in an extended payment schedule, you'll be able to drive a new vehicle every few years
At the end of your lease, you won't have to worry about how your vehicle's value will affect the purchase of a new one
Your monthly payments may be significantly lower since you're driving a vehicle for a specific time period and fixed mileage amount
*The College Graduate Program is available to U.S. citizens or permanent residents who graduated from a U.S. or Canadian accredited college/university no more than 24 months prior to credit application, or will graduate within 6 months of the application. Subject to credit approval by Audi Financial Services. Applicant must be employed in a full-time permanent position or have a written commitment from a future employer. References, proof of income, copy of degree, or official transcript and contact information for college/university required. Credit history is not required, but existing credit must be in good standing and have no previous derogatory credit. Monthly payment may not exceed 25% of gross monthly income. Program good from January 8, 2019 to January 2, 2020. Program not valid in Puerto Rico. See your local Audi dealer for details or, for general product information, call 1.800.822.AUDI (2834).