Most Popular Car Colors in America

Whether you're trying to express your individuality or simply trying to maximize resale value – deciding on what color your next vehicle is often a very personal decision. There are a variety of reasons and factors which contribute to an individual's choice for exterior color ranging from personal preferences to local weather conditions. If you've been wondering what the most popular car color is or how your personal favorite ranks, look no further! The Germain Motor Company has assembled this in-depth guide which lists the most popular car colors along with some interesting trivia related to color choice preferences.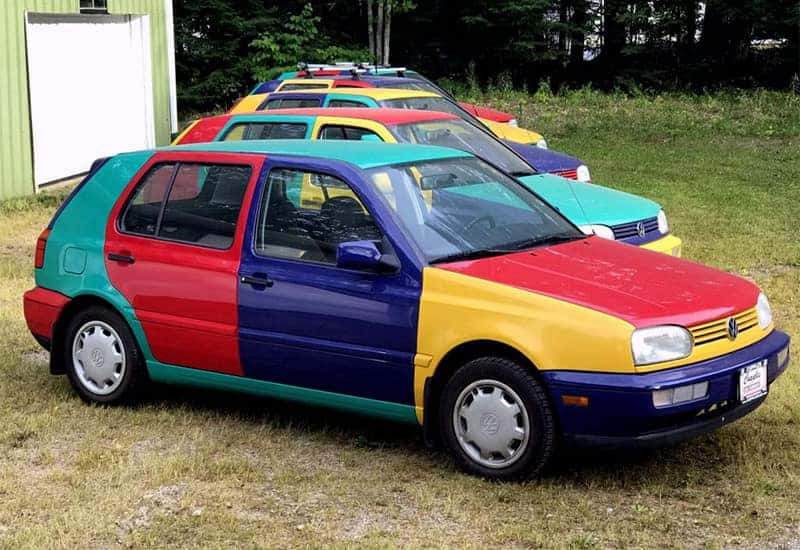 "Any color you want, so long as it's black" – Looking back to the early history of the automobile, cars were commonly referred to as horseless carriages. In an effort to resemble the familiar horse-drawn carriages, the earliest cars were painted black. In fact, when the Ford Motor Company began production of its iconic Model T there was only one color choice. That color was black.
Color reflects the times – When we look back to the Great Depression of the 1930s and the subsequent years including World War II, automotive colors often reflected the somber mood of the times. Similar to fashion trends, understated colors were more prevalent. Once peace and prosperity reigned strong again in the 1950s and beyond, bright candy-colored colors became popular on cars. Curious what colors were the most popular during America's bicentennial celebration in 1976? Red, white, and blue of course.
Gender plays a role in color preference – Several studies have concluded that gender does in fact play a role in exterior car color preferences. For example, men chose a yellow-colored car 34% more frequently than women. Conversely, women preferred teal vehicles more often than men. Regardless of gender, grayscale colors (white, black, gray, and silver) account for 77.1% of all vehicles on the road today.

Most Popular Car Colors – iSeeCars.com Study
Now for the moment you've been waiting for. The team at iSeeCars.com conducted an analysis of over 9.4 million cars on the road to determine the color distribution. After careful research, the answer is actually black and white. The table below lists the most popular car colors in America.
---
America's Most Popular Car Colors (according to iSeeCars.Com)
| | | |
| --- | --- | --- |
| Rank | Color | Percentage Share |
| 1 | White | 23.9% |
| 2 | Black | 23.2% |
| 3 | Gray | 15.5% |
| 4 | Silver | 14.5% |
| 5 | Red | 10.3% |
| 6 | Blue | 9.0% |
| 7 | Brown | 1.4% |
| 8 | Green | 0.7% |
| 9 | Beige | 0.4% |
| 10 | Orange | 0.4% |
| 11 | Gold | 0.3% |
| 12 | Yellow | 0.2% |
| 13 | Purple | 0.1% |
Grayscale colors (white, black, gray, and silver) represent a total of 77.1% of all vehicles on the road in the United States. White sits atop the list as the most popular choice. Some reasons for its popularity include the fact that white is associated with modern and progressive themes due to its connection to technology products such as the Apple iPhone. It's also one of the lowest maintenance car colors to keep looking clean due to its unique ability to hide dirt compared to many colors.

Finishing close behind in second place was the color black, followed by gray and silver. Many consumers tend to prefer grayscale colors from a practical standpoint since they are less likely to tire of looking at them. The first non-grayscale colors to appear on the list are red (5th place) and blue (6th place). Red is popular with sports cars, great for drivers looking to stand out from the crowd. Blue is a hit with drivers for similar reasons. The remaining 7 colors (brown, green, beige, orange, gold, yellow, and purple) account for only 3.5% of cars on the road today. Although grayscale colors tend to depreciate at an average rate, less popular colors tend to depreciate more slowly due to their scarcity on the market.