The Best 8 Off-Road Vehicles for 2024

Since sometimes the most unforgettable memories are made when you take the path less traveled, it's easy to understand the growing appeal of off-road-focused trucks and SUVs. The tremendous capabilities of these vehicles allow you to experience secluded sights otherwise inaccessible to other types of vehicles. For those who refuse to let any obstacle stand in their way, the Germain Motor Company has assembled this in-depth guide that names our top picks for the best off-road vehicles in their class. Read on to learn which is the best fit for your lifestyle.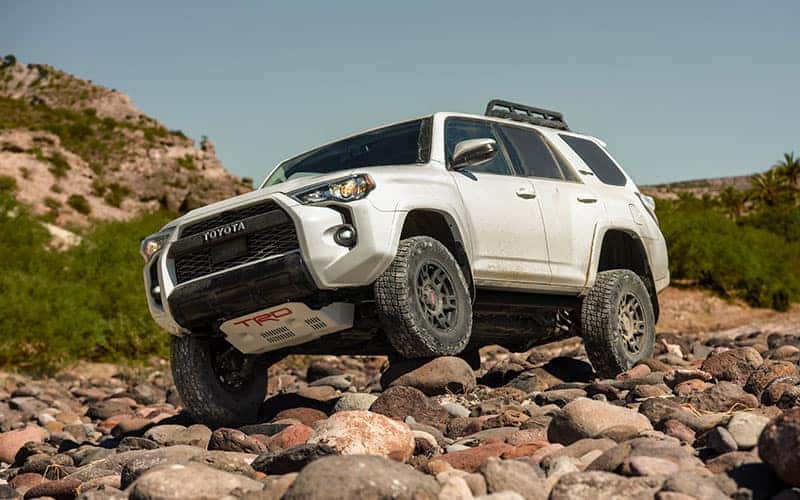 Toyota 4Runner TRD Pro
Thanks to the tireless efforts of Toyota Racing Development (TRD) engineers, the Toyota 4Runner TRD Pro is a true showcase of off-road excellence. Featuring rugged body-on-frame construction, the TRD Pro stands out with its heritage-inspired grille, TRD Pro badging, and a 1/4-inch-thick aluminum front skid plate. In addition to its 270-horsepower 4.0-liter V6 engine, other performance characteristics offered on the TRD Pro include a robust suspension, TRD-engineered alloy wheels, and aggressive off-road tires. You can also select from a full catalog of Genuine Toyota Accessories designed exclusively for your 4Runner TRD Pro. No matter where you're headed, you can count on the Toyota 4Runner TRD Pro to get you there and back home.
Key Features
Starting MSRP – $54,620
Engine – 4.0-Liter DOHC 24-Valve V6 with Dual Independent Variable Valve Timing with intelligence (VVT-i)
Performance – 270 Horsepower / 278 LB-FT of Torque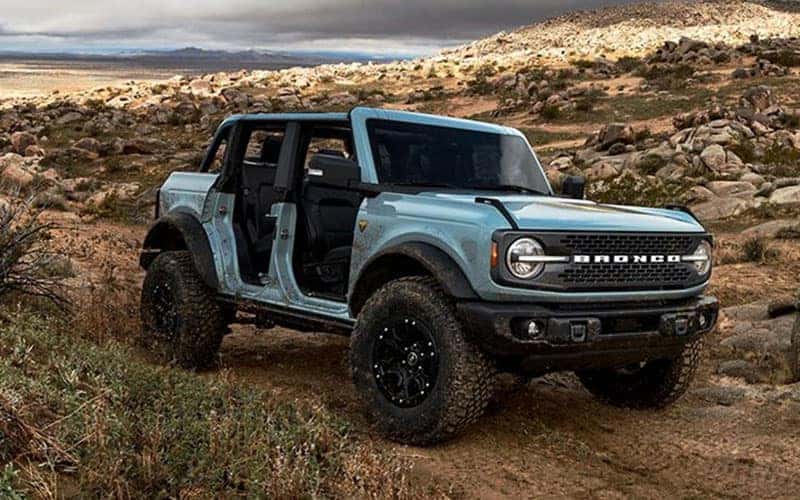 Ford Bronco
Back and better than ever, the highly-anticipated return of the legendary Ford Bronco has caused a stir among off-road enthusiasts. Paying homage to the iconic first-generation Bronco, the all-new model is infused with the toughness of an F-Series pickup along with the exhilarating performance of a Mustang. Drivers will have their choice of either two-door or four-door body styles, two potent EcoBoost® engines, and either a segment-first 7-speed manual and available 10-speed automatic transmission. The Bronco fears no obstacle thanks to its exclusive Terrain Management System™ with G.O.A.T. (Goes Over Any Terrain)™ modes. Inside the cabin, you can take advantage of the available 12-inch SYNC® 4 system that integrates seamlessly with the FordPass Performance app. If you've always wanted to write your own chapter in the legacy of the Ford Bronco, the wait is finally over.
Key Features
Starting MSRP – $39,130
Engine – 2.3L EcoBoost® 4-cylinder, optional 2.7L EcoBoost® V6, or available 3.0L EcoBoost® V6
Performance – (275 horsepower / 315 lb-ft of torque), (330 horsepower / 415 lb-ft of torque), or (418 horsepower / 440 lb-ft of torque)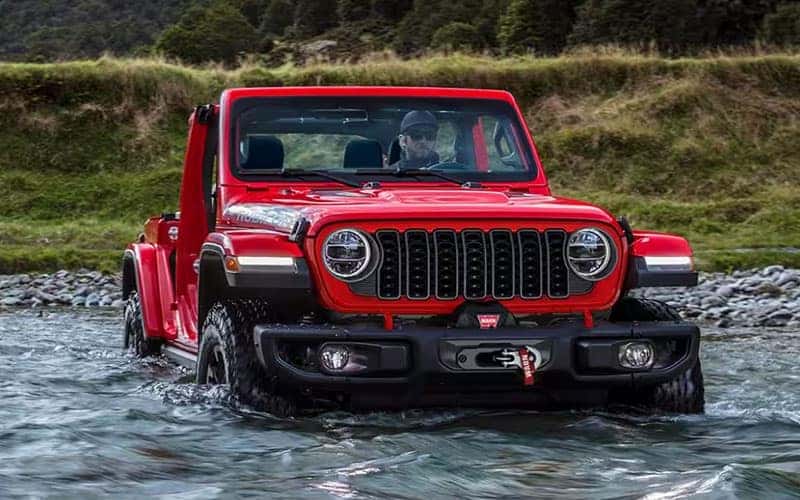 Jeep Wrangler
The Jeep Wrangler is the modern descendent of the original off-road sport utility vehicle. Off-road enthusiasts all over the world know that the Wrangler offers nearly unmatched capability. That capability has made it a true legend. Now, the legend is better than ever, with options like the Rubicon 392, which puts a massive 6.4 liter V8 under the hood of a factory-fresh Jeep Wrangler for the first time. Even the base Wrangler offers tons of torque, four-wheel drive, and the rock-ready performance only offered by a solid front axle. Countless options are available that allow you to personalize your Wrangler straight off of the production line. Plus, you've got the fair-weather fun of a removable top and removable doors. For many, the Jeep Wrangler isn't just their favorite choice of off-road vehicle – it's the only choice. Test drive a Wrangler and see why for yourself.
Key Features
Starting MSRP – $32,095
Engine – Standard 3.6L Pentastar® V6, available 2.0L Turbo 4-Cylinder, available 2.0L Turbo PHEV 4-Cylinder, or 6.4L HEMI® V8
Performance – (285 horsepower / 260 lb-ft of torque) up to (470 horsepower / 470 lb-ft of torque)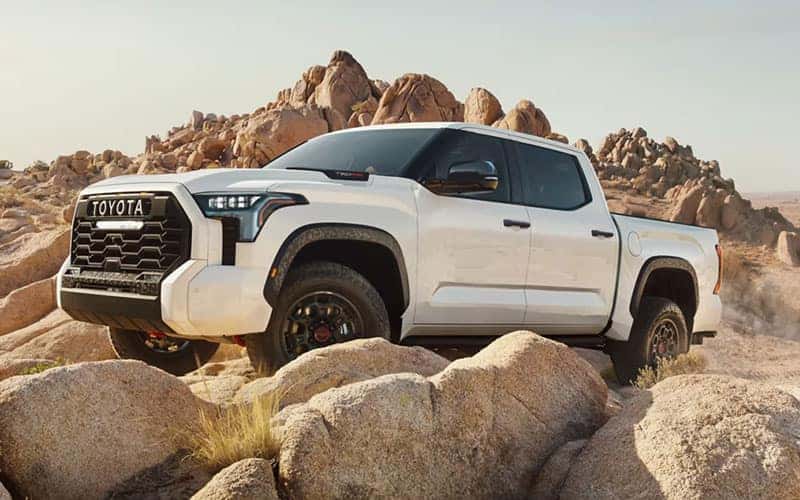 Toyota Tundra TRD Pro
From the driest deserts and most dense jungles to your favorite local trail, the Toyota Tundra TRD Pro has both the brains and brawn to perform when the roads turn rough. Beneath the hood lies a robust i-FORCE MAX 3.5-liter Twin-Turbo hybrid V6 which cranks out an impressive 437 horsepower. Standard features include lightweight 18-in. forged-aluminum BBS® wheels, a TRD-tuned FOX® off-road suspension, 1/4-inch-thick aluminum skid plate, and a heritage-inspired front grille. From the moment you start the Tundra TRD Pro, you'll feel the exhilaration from its standard dual cat-back exhaust featuring black chrome exhaust tips. Other exclusive TRD accents scattered throughout the interior help provide an escape from the wilderness inside the Tundra TRD Pro.
Key Features
Starting MSRP – $72,130
Engine – 3.5-liter i-FORCE MAX Twin-Turbo Hybrid V6
Performance – 437 Horsepower / 583 LB-FT of Torque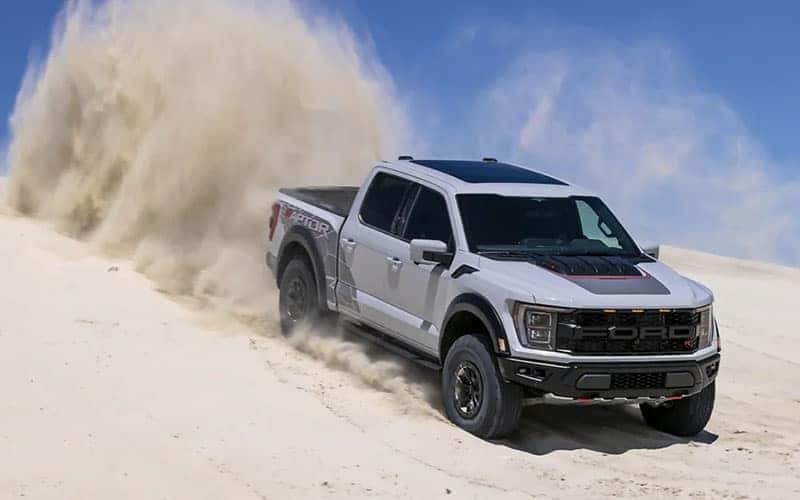 Ford F-150 Raptor
Born from the award-winning lineage of Ford F-Series pickup trucks, the Baja-bred F-150 Raptor is a true showcase of Built Ford Tough™ engineering. Its standard High-Output 3.5-Liter EcoBoost® V6 cranks out a best-in-class 450 horsepower and 510 lb-ft of torque. For a customized driving experience, you can use the standard Terrain Management System™ with 7 selectable drive modes. Other off-road features of the F-150 Raptor include Trail Control™ and FOX Racing Shox™ 3.0 internal bypass shocks with electronically controlled Live Valve technology. An all-new coil spring rear suspension makes this the best Raptor yet. Optional RECARO® sport front seats with enhanced bolstering in the seat back and cushion provide aggressive styling and comfortable support wherever your adventures take you.
Key Features
Starting MSRP – $76,775
Engine – High-Output 3.5-Liter EcoBoost® V6
Performance – 450 Horsepower / 510 LB-FT of Torque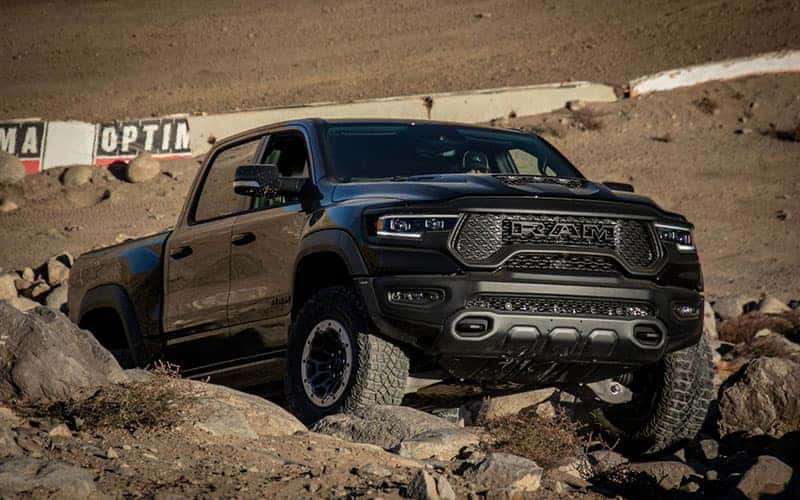 RAM 1500 TRX
The long-awaited RAM 1500 TRX is finally here and it's better than any of us could have dreamed it would be. The TRX is an impressive performer on or off-road. It's the first RAM to feature launch control and it can reach 60 MPH in just 4.5 seconds thanks to its supercharged HEMI® V8. Of course, you're reading this because you care about off-road performance, too. The state-of-the-art Bilstein® Black Hawk® e2 shocks are the most advanced off-road shocks ever fitted to a production pickup truck. The RAM 1500 TRX has an incredible 11.8 inches of ground clearance with 13 inches of suspension travel up front and 14 inches in the rear. Eight selectable drive modes help you maximize performance on different types of terrain – and there's a valet mode, too. That's great peace of mind with over 700 thundering, stampeding horsepower on tap.
Key Features
Starting MSRP – $97,845
Engine – Supercharged 6.2 liter HEMI® V8
Performance – 702 Horsepower / 650 LB-FT of Torque
Best Luxury Off-Road SUVs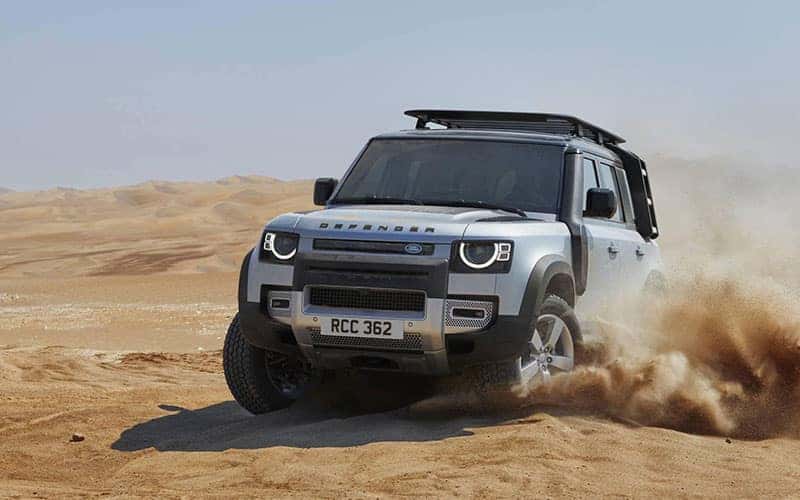 Land Rover Defender
Since its debut, the Land Rover Defender has represented strength and off-road excellence in some of the most inhospitable places across the world. Back and better than ever, the Defender 90, Defender 110, and Defender 130 feature three capable powertrain options, innovative off-road capabilities, and advanced tech features to help you excel when the pavement turns to gravel. Instantly recognizable as a Land Rover, the striking upright proportions of the Defender help highlight its rugged performance capabilities. A luxurious yet ergonomic interior helps you enjoy every stretch of the trail. It's time to experience what drivers across the globe have praised for generations with the dynamic Land Rover Defender.
Key Features
Starting MSRP – $56,400
Engine – 2.0-liter turbocharged I4, available 3.0-liter I6 MHEV, or available 5.0-liter supercharged V8
Performance – (296 Horsepower / 295 LB-FT of Torque) or (395 Horsepower / 406 LB-FT of Torque) or (518 Horsepower / 625 LF-FT of Torque)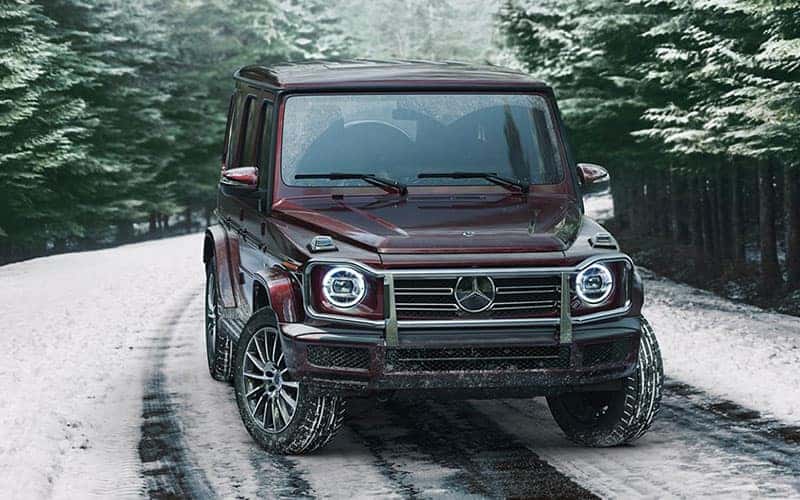 Mercedes-Benz G-Class
With the same timeless look that's captured the hearts of countless drivers all over the world, the Mercedes-Benz G-Class balances off-road capability with bespoke luxury like no other vehicle on the marketplace. Forever timeless, fully modern, and ready for the next challenge – the G-Class is powered by a potent 4.0-liter biturbo V8 that has enough muscle to tackle any obstacle in its way. An exquisitely-appointed interior featuring hand-laid materials and meticulous attention to detail helps you take in your surroundings in complete comfort. Seating options include an enormous range of hand-fitted leathers and a "hot stone" massage, proving that off-road travel no longer means settling for anything less than first-class inside the Mercedes-Benz G-Class.
Key Features
Starting MSRP – $139,900
Engine – 4.0-liter biturbo V8
Performance – 416 Horsepower / 450 LB-FT of Torque