Porsche of Ann Arbor Premier Dealer Award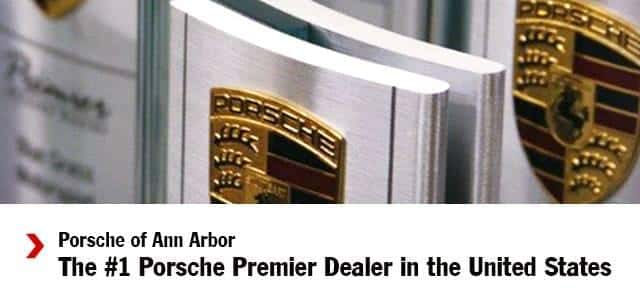 2017 Porsche Premier Dealer Award
Every dealership within the Germain Automotive Group is relentlessly striving for excellence; incorporating new processes and resources designed to delight our customers. This commitment begins with our CEO Steve Germain, and extends to over 1,000 employees across all of our dealerships in Florida, Ohio, and Michigan. It's not without great effort that any team of employees working at any company in America gets to be recognized as one of the best in their industry – which is why we're so proud to be recognized once again as one of the top Porsche dealerships in the United States.
The Porsche Premier Dealer Award is an honor bestowed upon just 25 Porsche dealerships each year. Last year, Porsche of Ann Arbor received this award for the first time in it's history. We were the only Porsche dealership in the state of Michigan to receive this award in 2016.
As is our nature, we didn't rest on our laurels – instead we strengthened our resolve and continued to improve our client experience. For 2017, Porsche of Ann Arbor was the #1 Rated Porsche Dealership in the country for the Porsche Premier Dealer Award. No other dealership scored as highly across all of Porsche's key operational and customer satisfaction metrics.
Once again for 2017, and for the second year in a row, Porsche of Ann Arbor is not only the sole Porsche Premier Dealer in the state of Michigan, but the #1 Rated Porsche dealership in the United States.
FROM PORSCHE CARS NORTH AMERICA:
Our Philosophy
Porsche is a prestigious, authentic brand with a unique heritage and a fervent core of enthusiasts. Porsche owners are passionate about their automobiles in a way no other automotive marque can match. Those who purchase a Porsche are buying more than a car-they are buying a legend. Porsche enthusiasts are driven, successful people who demand the very best.
Owning a Porsche is a reflection of their values. Driving a Porsche connects with the very essence of their psyche. This deep-rooted link between car and driver must also be forged between the company and the customer in order to create an ownership experience that is every bit as satisfying as the Porsche driving experience itself.
Since earning Porsche Premier Dealer status requires a total team effort within a dealership, please join us in congratulating the entire Porsche team at Porsche of Ann Arbor — a Porsche Premier Dealer.